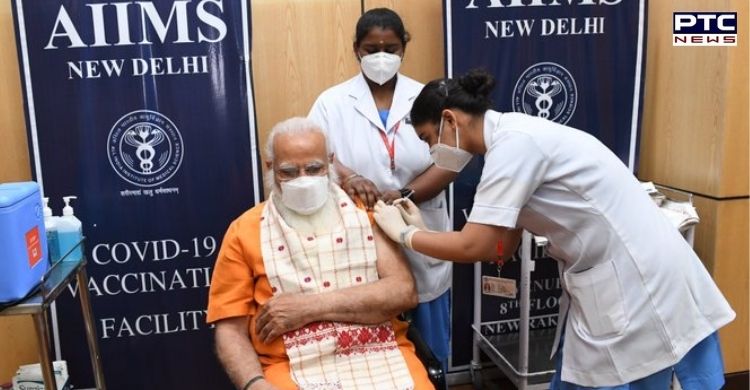 Coronavirus Vaccination in India: Prime Minister Narendra Modi on Thursday received the second dose of the Covid-19 vaccine at Delhi's AIIMS after 37 days of his first shot. Also, he urged all those eligible to get vaccinated against the coronavirus pandemic.

PM Narendra Modi was the first beneficiary on March 1 as the coronavirus vaccination in India was allowed to people above 60 and those over 45 with other illnesses.
Also Read | CBSE Board Exams 2021: Students request govt to cancel exams due to rising COVID-19 cases
While sharing a photo, the Prime Minister said a Covid-19 vaccine was among the few ways to defeat the coronavirus. He was seen wearing a mask this time as he took the jab, unlike the previous time.

"Got my second dose of the COVID-19 vaccine at AIIMS today. Vaccination is among the few ways we have, to defeat the virus. If you are eligible for the vaccine, get your shot soon," PM Modi tweeted. Also, he shared a link to the Cowin website, a portal where you can register for the vaccine.
Also Read | Coronavirus: Punjab government announces new curbs; night curfew in whole state
Sister Nisha Sharma inoculated a second dose of COVID-19 vaccine to PM Narendra Modi. "I have given the second dose of COVAXIN to our Prime Minister Narendra Modi today. He spoke to us. It was a memorable moment for me as I got to meet him and vaccinate him," she said.
Nisha Sharma hails from Punjab while Sister P Niveda, who inoculated him the first dose, belongs to Puducherry.
Niveda said that "I am the vaccinator who gave the first dose of COVAXIN to PM Narendra Modi. Today I got another opportunity to meet him and vaccinate him for the second time. I was elated again. He spoke to us, we even clicked pictures with him."
Click here to follow PTC News on Twitter
-PTC News