Dimapur, February 24: On Friday, Prime Minister Narendra Modi said that the mantra of Bharatiya Janata Party is "peace, progress and prosperity" in the state is the reason behind people's rising trust in the party. He said that the border disputes are being resolved at a fast pace due to NDA government in the state.

"Our mantra for Nagaland has been - Peace, progress and prosperity, and this is the reason people's trust in BJP is rising," PM Modi said.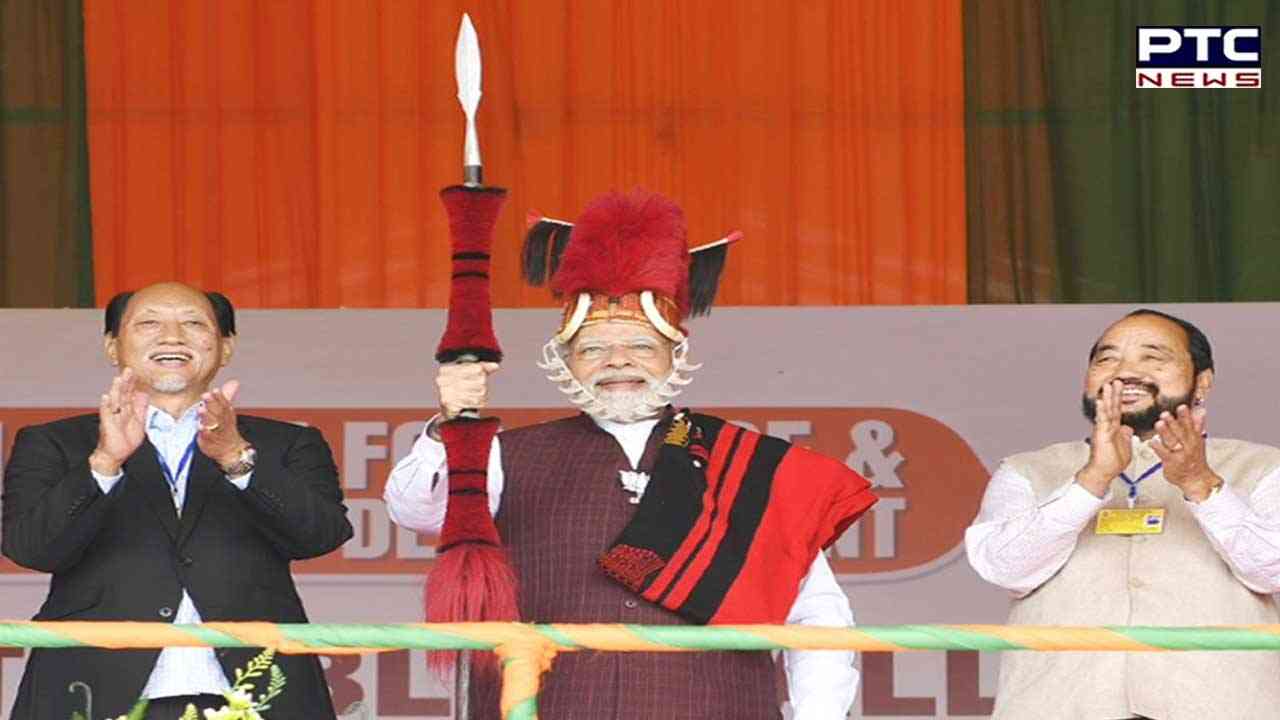 Prime Minister was addressing a rally and lauded the people of the state regarding the peaceful polling that took place voting in Tripura Assembly elections on February 16. He further said that there was no violence that took place because of the presence of the BJP government in the state.
Also Read: Law and order situation in Punjab is a major concern: Capt Amarinder over Ajnala situation
"After many decades, there was no incident of violence during Assembly elections in Tripura as there is a BJP government in the state," he said.
PM also stressed by saying that the BJP-NDPP government in the state has changed "politics of divide" in the northeast states to a "divine governance model".
"Earlier, where there was a politics of divide in the northeast, we have converted it to a divine governance model. The people of Nagaland are trusting the BJP and NDA more and more. Numerous youths have left the path of violence in the past few years. There has been a fall of nearly 75 per cent in violent incidents in Nagaland in the last nine years. AFSPA has been revoked from various areas of the state. We are working honestly to make sure that there is no need for AFSPA in Nagaland in the future," the Prime Minister said.
Later, PM Modi also added and lauded the people of the region, he also said in his speech the detail work that is done by the BJP government in the region. He also said that the disputes in the border are being resolved at a rapid pace due to the NDA governments in the states.
"Permanent peace and progress in Nagaland is the basis of BJP's politics. The border disputes are also being rapidly resolved due to the BJP and NDA governments in the states. Stricter action would be taken against those doing extortion after the re-election on March 2," he said.
During the Prime Minister's address, Nagaland Chief Minister Neiphiu Rio, Deputy Chief Minister Yanthungo Patton, Secretary General NDPP Abu Metha, BJP In-Charge Nagaland Nalin Kohli, BJP Candidates Tovihoto Ayemi, Jacob Zhimomi, NDPP candidates Zhaleo Rio, Hekani Jakhalu and Moatoshi Longkumer were present.
Nagaland will go to Assembly polls on February 27 and the votes will be counted on March 2 along with Tripura and Meghalaya.
- ANI