Mumbai, September 22: Aam Aadmi Party (AAP) MP Raghav Chadha and actor Parineeti Chopra received a warm reception at Udaipur airport on Friday. Multiple photos and videos capturing the couple's arrival at Udaipur airport from Delhi have been circulating on social media.
Dhols and music greeted the couple as they exited the airport gates. Raghav and Parineeti are set to tie the knot in Udaipur reportedly over the upcoming weekend. To welcome them, a group performed bhangra.
Parineeti Chopra looked stunning in a red jumpsuit paired with a cream shawl, completing her look with black sunglasses. Raghav opted for a black sweater and blue denim.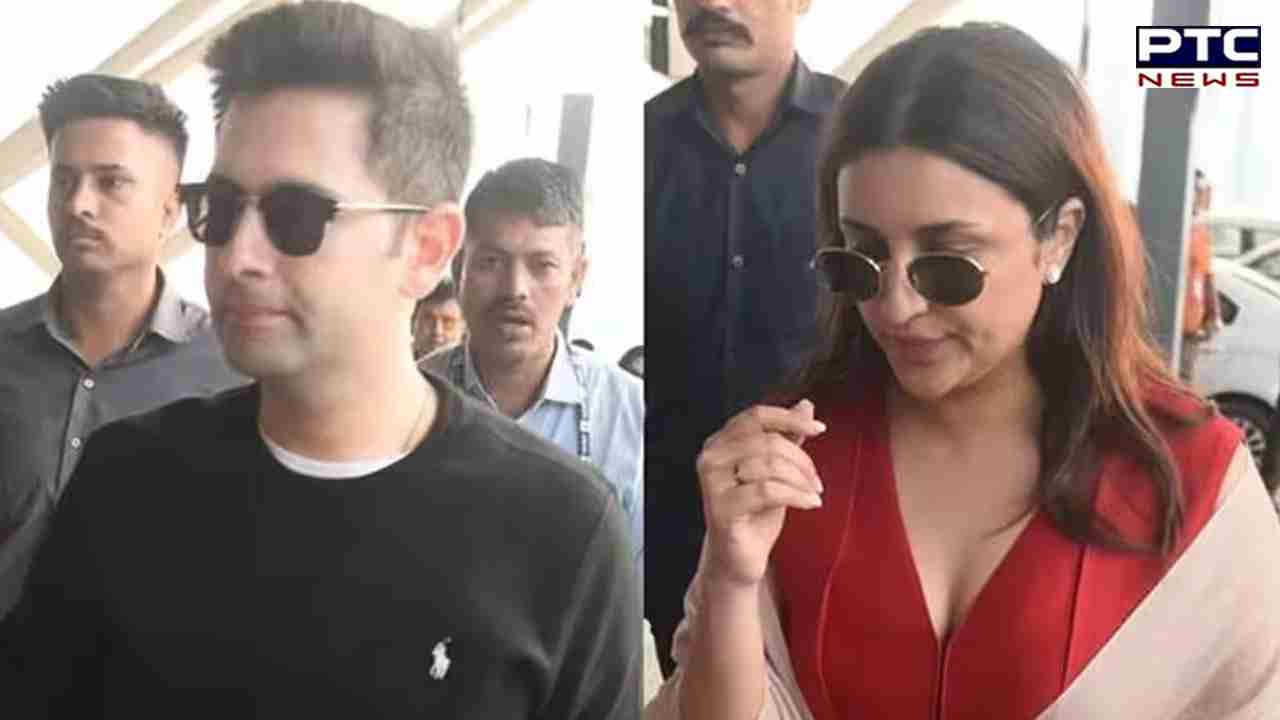 Prior to this, the duo hosted a Sufi night for close friends and family members. Parineeti Chopra's cousin Priyanka was notably absent, but the actor's mother Madhu Chopra and brother Siddharth were present at the special function held at Raghav's residence in the national capital. Before the musical night, Parineeti and Raghav sought blessings at a Gurdwara in New Delhi, where they participated in Ardas and Kirtan.
The couple exchanged rings on May 13 at Kapurthala house in New Delhi, with their loved ones in attendance. The star-studded ceremony was graced by several politicians, including Delhi Chief Minister Arvind Kejriwal, Punjab CM Bhagwant Mann, former finance minister P Chidambaram, and Shiv Sena leader Aaditya Thackeray.
Despite keeping their relationship under wraps, it was revealed that Raghav and Parineeti had known each other for several years before they began dating. Recently, the couple was spotted scouting wedding locations in Udaipur, hinting at a lavish wedding in Rajasthan, following in the footsteps of Parineeti's cousin Priyanka Chopra and Nick Jonas.
According to reports, the couple will tie the knot in Rajasthan, with wedding festivities scheduled for September 23 and 24.
In terms of their professional commitments, Parineeti is set to share the screen with Diljit Dosanjh in 'Chamkila,' directed by Imtiaz Ali. The film revolves around the lives of two renowned Punjabi singers, Amarjot Kaur and Amar Singh Chamkila. Additionally, she has 'Mission Raniganj: The Great Bharat Rescue' alongside Akshay Kumar in her upcoming projects.
- ANI
Join Whatsapp Channel