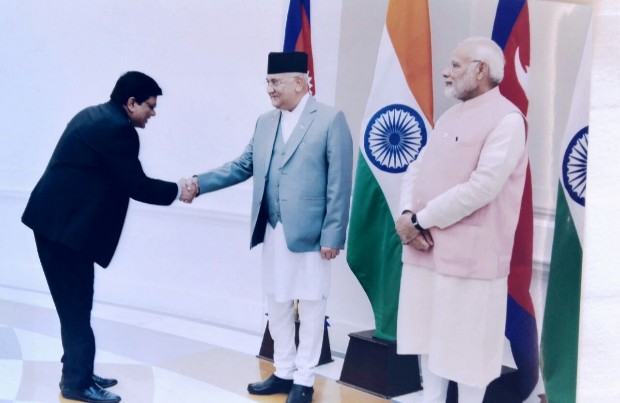 Nepalese Prime Minister K P Sharma Oli asserted that Nepal had not allowed its land to be used against the sovereign interests of India and that it was firm in its resolve to maintain this.
Oli said "amity with all and enmity with none" was the motto of Nepal's foreign policy.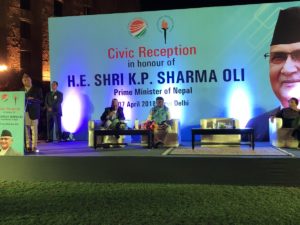 Trust was the key cementing factor between the two neighbours, he said, noting that it derived strength from principles like "equality, justice, mutual respect and benefit as well as non-interference".
"As friendly neighbours, our two countries need to be aware of and have respect for each other's concerns and sensitivities. Nepal has not allowed its land to be used against the sovereign interests of India.
"We are firm in our resolve to maintain this position and it is natural that we expect a similar assurance from India," Oli said.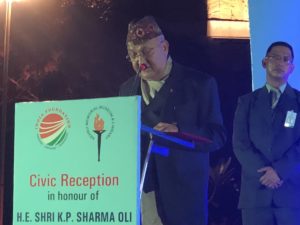 His comments came in the backdrop of India's concerns regarding China's growing influence over Nepal.
Oli added that Nepal was between two big neighbours -- India and China -- and it wanted to have a friendly, neighbourly relations with the two.
The Nepalese prime minister was speaking at an event organised by the India Foundation on Saturday.
Stressing that no country compromised on nationalism, Oli said for Nepal, nationalism was the protection of its sovereignty, territorial integrity, national independence and fulfilment of its national interest.
"Amity with all and enmity with none is our motto in foreign policy. We seek to foster relations with neighbours and all friendly countries around the world, based on justice, sovereign equality, mutual respect and benefits," he said.
Earlier in the day, speaking to reporters after the ceremonial reception at the Rashtrapati Bhavan, Oli said the "historical" and "renewed" friendship between India and Nepal was oriented towards the future and the bilateral ties had evolved according to the "needs of times".
The Nepalese prime minister said he was visiting India in the "changed context" to contribute to the friendship between "our two countries and people".
This is Oli's first visit to India after taking charge as Nepal's prime minister for the second time in February. He visited India during his first term in February, 2016.
Many observers see Oli as favouring a closer relationship between Nepal and China.
However, the issue of China-Nepal ties was not discussed during the delegation-level talks.
Asked about Nepal joining China's ambitious One Border One Road (OBOR) initiative and India's concerns regarding the project, Foreign Secretary Vijay Gokhale told reporters at a briefing that "there was no discussion on China".
The OBOR is a massive infrastructure project that aims to link Asia and the European markets through a maze of rail, road and shipping networks. The controversial China-Pakistan Economic Corridor (CPEC) is a part of the OBOR initiative.
India has opposed the CPEC as it runs through Pakistan-occupied Kashmir (PoK).
Oli's first tenure as prime minister in 2015-16 saw protests by Indian-origin Madeshi people in the southern Terai (plains) region over the new Constitution of Nepal. The Madhesis say the new Constitution is discriminatory to their interests.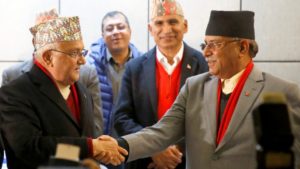 They had blocked major trading points between India and Nepal, preventing goods from reaching the landlocked country. The months-long blockade had led to souring of the ties between the two countries.
But Foreign Secretary Gokhale said the circumstances in 2016 and current times were different, adding that the government of Nepal was elected on the basis of the Constitution.
"As far as our relationship is concerned, we have a close and unique relationship with Nepal, but the efforts of both the leaders at today's meeting was to have a forward-looking approach and see how we can deepen and strengthen this relationship," he said.
In his press statement after the delegation-level talks with Prime Minister Narendra Modi, Oli lauded India's initiative to have guidelines and regulations for cross-border electricity trade, but said Nepal wanted an early realisation of the open market provision of the bilateral power trade agreement, which was concluded between the two sides in 2014.
Later, responding to a question on this, Sudhakar Dalela, Joint Secretary (north) in the Ministry of External Affairs, said India had build three transmission lines for Nepal in two years, which helped supply 350-400 MW of electricity to Nepal.
Dalela said nearly 18 months ago, India had issued a set of guidelines to bring transparency in the regulatory mechanism for cross-border trade in power.
"We have received some comments from neighbouring countries in the last few months and we intend to look at these comments and see how we take those into account while trying to promote a better power trading market in South Asia," he said.
On demonetisation, he said the issue did not come up for discussion between the two leaders. Nepal has a substantial amount of demonetised high-value Indian currency.
In his press statement, Modi said he and Oli reviewed water conservation and hydro power projects.
"We both agree to accelerate work on projects like Arun-3, Pancheshwar and Saptakosi-Sunkosi," Modi said.
Arun III is a 900-MW hydroelectric project in the Arun river, while the Pancheshwar Multipurpose Project (PMP) is a bi-national hydro power project to be developed in the Mahakali river, bordering Nepal and India. The Saptakosi-Sunkosi high dam is also a multi-purpose project. PTI