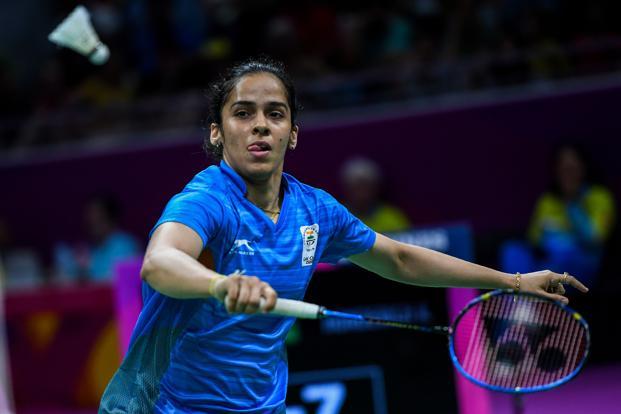 India's badminton queens PV Sindhu and Saina Nehwal set up the much-anticipated women's singles summit clash at the Commonwealth Games after winning their respective semifinals in contrasting fashion here today.
The 22-year-old Olympic silver medallist Sindhu, who had missed the mixed team competition due to an ankle sprain, knocked out defending champion Michelle Li 21-18 21-8 in just 26 minutes while former World No. 1 Saina had to dig deep to struggle past 2014 silver medallist Kristy Gilmour 21-14 18-21 21-17 in 68 minutes.
Sindhu said: "I was more consistent. Even though the first set was close, in the second set I took a huge lead and I finished strong. It was good for me that I finished it in two sets rather than prolonging the match."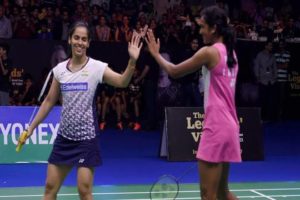 Timings: The Gold Medal events for Badminton will start at 4.30 Am on 15th april, Sunday & The Women's singles final between Saina Nehwal and PV Sindhu is the second Match
With the two star shuttlers reaching the final, India are assured of gold and silver in the women's singles.
Newly-crowned World No. 1 Kidambi Srikanth also progressed to the final of the men's singles after defeating 2010 Commonwealth Games silver medallist Rajiv Ouseph of England 21-10 21-17 in little over half an hour.
However, three-time Olympic silver medallist Lee Chong Wei prevented an all-Indian men's singles clash by getting the better of H S Prannoy 21-16 9-21 21-14 in the other semifinal.
Prannoy later lost to Ouseph 21-17 23-25 9-21 in the bronze medal match that last 65 minutes. The Indian won the first game but could not kill the match in the second. Ouseph won the second game in a long-drawn deuce game. Prannoy did not give much fight in the third game which he lost 9-21 to miss the bronze.
Earlier, young Indian pair of Satwik Rankireddy and Chirag Shetty also stood one step away from a historic gold medal as they reached the finals of the men's doubles event with a 21-18 21-10 win over Sri Lanka's Sachin Dias and Buwaneka Goonethilleka.
Women's doubles pair of Ashwini Ponnappa and N Sikki Reddy, meanwhile, won a bronze medal after beating local hopes Setyana Mapasa and Gronya Somerville 21-19 21-19 later in the day.
Earlier, the duo had lost 21-17 15-21 4-21 to Malaysian combo of Mei Kuan Chow and Vivian Hoo in women's doubles semifinals.
Assured of at least a silver, Satwik and Chirag will be the first Indian pair to win a men's doubles medal at the Commonwealth Games.
"We started off pretty badly like till 17 we were down and in the end we played a bit more steady and smarter to take the game. The second game we started off confidently right from first point and that's what helped us," Chirag told PTI.
Satwik and Chirag will now face Rio Olympics bronze medallists Marcus Ellis and Chris Langridge tomorrow.
2010 Delhi Games champion Saina and 2014 bronze medallist Sindhu had clashed at the Senior National championship finals last November with the former having the last laugh after a gruelling match.
Saina and Sindhu faced each other twice in the domestic league. While Saina, playing for Hyderabad Hotshots then, had defeated Sindhu (Awadhe Warriors) in the 2013 Indian Badminton League, Sindhu beat Saina in the PBL 2 semi-final in January, 2017.
Talking about the final clash tomorrow, Sindhu said: "Everybody was hoping for this and it has finally come true. I think everyone will be watching on TV. It's going to be a good match. I'll just play my game and give my best.
"It's definitely a good thing because any win for the country is a good thing and having both the girls in the final is a proud moment for everyone, especially for us because the gold and silver is going to India, which I'm very happy about."
On whether they would train against each other in the lead up to the gold medal match, Sindhu said: "On court, we have to get aggressive against each other but apart from that, we will have our own training session so I don't think we are going to play together. Normally, we don't play because we have other players to go up against."
In the mixed doubles, Ashwini and Satwik went down fighting 22-20 18-21 16-21 to England's Marcus Ellis and Lauren Smith in the semifinals and then lost to the Malaysian pair of Peng Soon Chan/Liu Ying Goh 19-21 19-21 in the bronze medal match. PTI