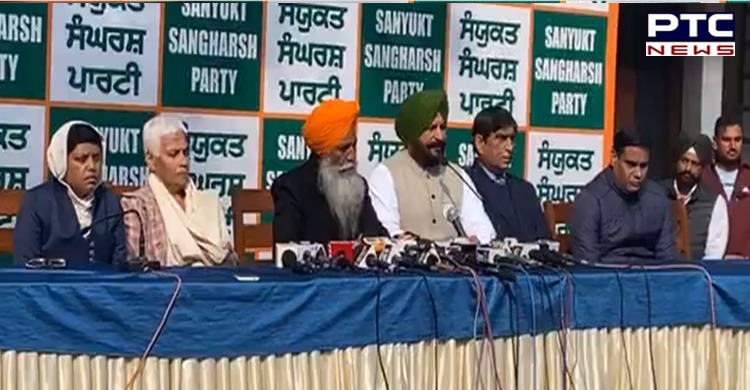 Mohali (Punjab): With the Assembly elections in Punjab due in 2022, farmer leader Gurnam Singh Charuni on Saturday floated his party named — Sanyukt Sangharsh Party.

Addressing mediapersons at Chandigarh Press Club, farmer leader Gurnam Singh Charuni alleged that the farmers' movement in the country was over, but under the guise of 'kisan movement', politics was still being played.
Also read | Delhi's air quality remains in 'very poor' category
"Politics has become polluted. There's a need to change it. Policymakers are promoting capitalism; policies are being framed to favour capitalists. Nothing is being done for the common man and the poor. So, we're launching our new party, Sanyukt Sangharsh Party," said Gurnam Singh Charuni.
He claimed that farmer leaders, who were on the roads for a year spearheading the movement, would now take politics to a new level ahead of the Punjab Assembly elections 2022.
The Sanyukt Sangharsh Party would be a secular one, he said, adding that it would work for the welfare of all sections of society. Charuni, who had batted for 'Mission Punjab', has been asking farmer outfits from Punjab to fight the upcoming elections in the state.
Notably, Gurnam Singh Charuni is a leader of the Bharatiya Kisan Union (BKU) and a member of the Samyukta Kisan Morcha, which ran the farmers' agitation for a year.
The Samyukta Kisan Morcha is, however, against Charuni's decision to enter the political fray amid the Punjab elections 2022. There was also a tug of war between Gurnam Singh Charuni and SKM leaders over the issue, but Charuni remained adamant on his point.
However, Charuni has made it clear that he himself would not enter the fray, but would field farmers.
Also read | BSF intercepts Pakistani drone at Punjab's Ferozepur
On the other hand, Charuni also claimed that today's (December 18) meeting of 32 farmer organisations of Punjab was regarding entering the political arena. In the coming days, farmers leaders of Punjab would definitely enter poll fray, he added.
As per information, Gurnam Singh Charuni's wife Balwinder Kaur had tried her luck on Aam Aadmi Party ticket in the 2014 Lok Sabha elections from Kurukshetra. Her deposit was forfeited in that election and Gurnam Singh Charuni then distanced himself from politics.
-PTC News