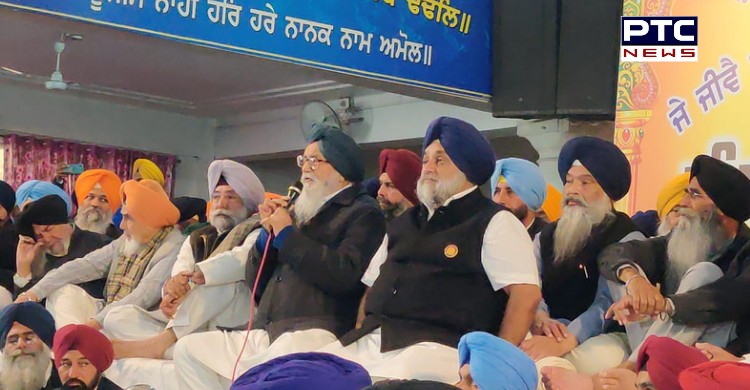 In the wake of recent sacrilege incidents in Punjab, the Shiromani Akali Dal, led by Sukhbir Singh Badal, on Sunday urged the President of India to get these incidents probed by a High Court judge. A resolution was also passed against the sacrilege incidents during "Ros Diwas" organised at Manji Sahib Diwan Hall in the Golden Temple Complex in Amritsar on Sunday. Representatives of various Sikh organisations assembled at the venue.

Addressing the gathering, Shiromani Akali Dal president Sukhbir Singh Badal said the sacrilege incident at the Golden Temple in Amritsar recently had hurt the religious sentiments of Sikhs. He said such an act would not be tolerated at any cost. He said several forces were trying to take over the affairs of gurdwaras, which would not be allowed.
Also read | More curbs in Haryana; schools, cinema halls shut amid Covid threat
Sukhbir Singh Badal alleged an attempt by political forces to malign the image of the Shiromani Akali Dal. He said the recurrence and frequency of "painful acts of sacrilege against Sikh religion clearly pointed towards a deep-rooted conspiracy".
"Those carrying out these nefarious deeds had been emboldened as the Congress leadership and government in Punjab had wasted nearly five years in playing dirty and dangerous politics over the sensitive issue of sacrilege," alleged Sukhbir Singh Badal.
He alleged that the Congress-led Punjab Government had failed to make any headway in the sacrilege incident at the Golden Temple.Instead of arresting the accused, efforts were being made to tamper with the evidences, he alleged, adding that the Punjab Government was playing politics over "sacrilege".
Also read | Punjab reports 2nd Omicron case; Patiala's Thapar institute turns Covid hotspot
SAD stalwart Parkash Singh Badal said governments and anti-religious forces were trying to weaken Sikh Quom. He accused the Congress and the Aam Aadmi Party of making attempts to take over the functioning of gurdwaras.
SGPC president Harjinder Singh Dhami said, "Sri Guru Granth Sahib is supreme for the Sikhs and the incidents of sacrilege have shocked the psyche of the community. The government is not making efforts to reach the actual culprits, who desecrated the holy book of Sikhs.
Among others who spoke on the occasion were Professor Prem Singh Chandumajra,
Dr Daljit Singh Cheema, Akal Takht Jathedar Giani Harpreet Singh and Maheshinder Singh Grewal.
-PTC News