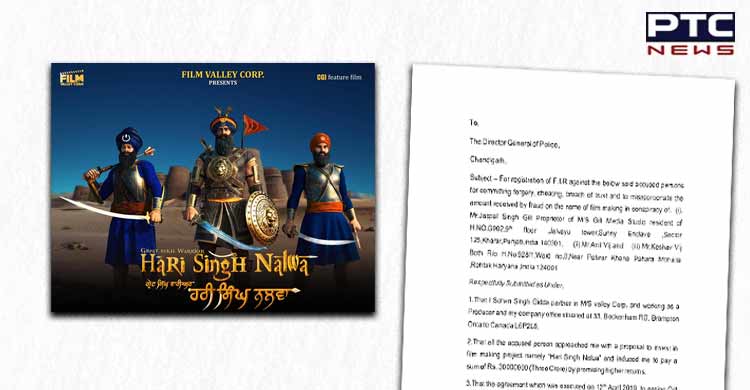 Chandigarh, September 23: A film producing company from Mohali cheated Canadian NRI Sohan Singh Gidda of Rs 3 crore 12 lakh.

Also Read| Patiala: Ban on paddy harvesting from 7 pm to 10 am
The contract to make the film 'Sardar Hari Singh Nalwa' ended in March 2022, but now the company making the film is neither returning the money nor making the film. This case was registered in NRI police station Mohali around three months ago.
Giving information about the fraud done to him, Sohan Singh Gidda while talking to reporters said that due to his faith Sikhism, he wanted to make a 3D animation film of Sardar Hari Singh Nalwa with a budget of 3 crore rupees.
He said that he had signed a written contract with Gill Media Studio in Mohali. After the contract, the company gave him only two or three trailers and some stills, but the complete film was not made and given.
He says that he has taken Rs 12 lakh more than the budget but now the owners of the company are demanding more money from him which is blatant fraud and bullying. He also told that he had given all the money to the company online and also gave full payment advance by trusting the company, but he has been cheated.
Demanding justice from Chief Minister Bhagwant Mann, he said that even the NRI police station officials are not doing anything, due to which his case should be investigated immediately and appropriate action should be taken against the accused.
Also Read: Massive crackdown on PFI leaders: NIA, ED arrest over 100 cadres across 10 states
-PTC News