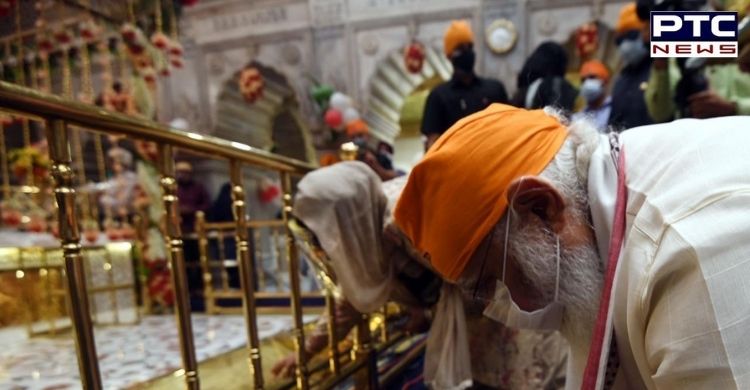 Prime Minister Narendra Modi Saturday visited Gurdwara Sis Ganj Sahib in Delhi on the occasion of 400th Prakash Purab of Sri Guru Teg Bahadur Ji.

He offered prayers on the 400th Parkash Purab of Sri Guru Teg Bahadur Ji amid a surge in coronavirus cases in India. COVID-19 continued to overwhelm the country setting new records on a daily basis.
Also Read | Second wave of coronavirus in India: PM Narendra Modi a 'super-spreader' of COVID-19, says IMA Vice President
According to the information, Prime Minister Narendra Modi visited the Gurudwara Sis Ganj Sahib without the security route or special security arrangements at the Gurdwara.
Also Read | FACT CHECK: Will there be lockdown in India from May 3?
"On the special occasion of his 400th Parkash Purab, I bow to Sri Guru Teg Bahadur Ji. He is widely respected globally for his courage and his efforts to serve the downtrodden," said PM Modi in a tweet.
Adding, he wrote: "He refused to bow to tyranny and injustice. His supreme sacrifice gives strength and motivation to many."
While sharing his pictures from Gurdwara Sis Ganj Sahib, PM Modi wrote: "Prayed at Gurudwara Sis Ganj Sahib today. We can never forget the life, ideals, and supreme sacrifice of Sri Guru Teg Bahadur Ji."
Click here to follow PTC News on Twitter
-PTC News