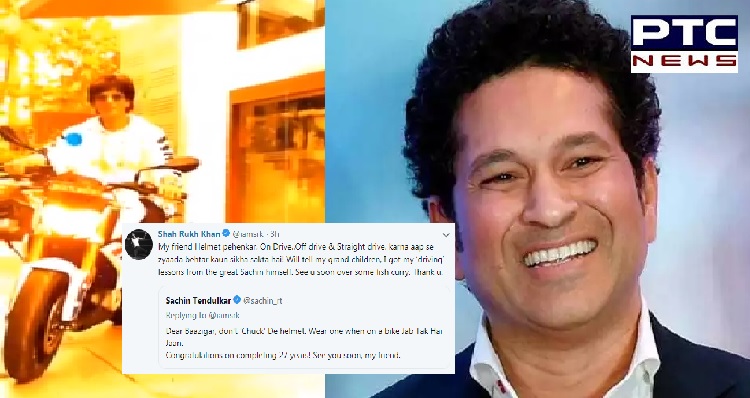 Shah Rukh Khan, the King Khan of the Bollywood celebrated his 27 years in Bollywood earlier this week. He celebrated the day by posting a recreated scene from his very first film "Deewana". In the video, the actor entered on the bike with the song "koi na koi chahiye"  playing in the background and thanked his fans for letting him ride into their hearts.
https://twitter.com/iamsrk/status/1143540169464635394
Sachin Tendulkar, the master blaster reacted to the tweet. He congratulated the actor in a filmy way that amused fans of both the legends. Retweeting the actors' tweet, Tendulkar said, "Dear Baazigar, don't 'Chuck' De helmet. Wear one when on a bike Jab Tak Hai Jaan. Congratulations on completing 27 years! See you soon, my friend". This tweet triggered a troll army on social media, who went on making the retweet hilarious.
https://twitter.com/iamsrk/status/1144914606395219968
Shah Rukh Khan is a very dear friend to Sachin Tendulkar, responded to him saying,"My friend Helmet pehenkar, On Drive..Off drive & Straight drive, karna aap se zyaada behtar kaun sikha sakta hai! Will tell my grand children, I got my 'driving' lessons from the great Sachin himself. See u soon over some fish curry. Thank u."
Also Read: Shah Rukh Khan Answers the Most Googled Questions About Him
Earlier, Sachin Tendulkar was trolled on social media for giving remark on Mahendra Singh Dhoni's performance in ICC Cricket World Cup 2019. Also, Shah Rukh Khan is currently working on the upcoming film the Lion King in which his son Aaryan will be doing the Voice over for the character Simba.
-PTC News