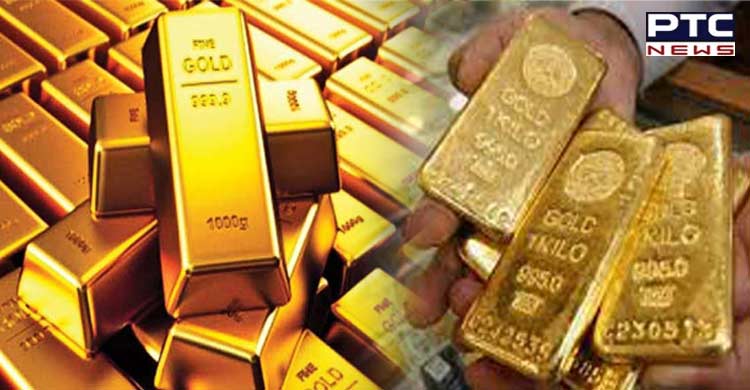 New Delhi, October 9: Sharp rise in crude prices, which rose about 12 percent in the past week, is mainly responsible for the rally in gold rates, suggest commodity experts.

However, there are other factors at play as well. Rising global inflation and a volatile stock market have made gold a "safe" investment option for investors.
The spot price of gold is expected to rise to $1,780 (approx. Rs 1.47 lakh) per ounce, while the MCX gold cost per 10gm might reach Rs 53,000 by Diwali, according to experts. However, the rupee's fall against the dollar to a record low of 82.40 is a significant component that underpins domestic gold prices. After a period of relative inactivity, gold prices in Delhi began to move in early 2022, as volatile equity markets prompted investors to seek safe-haven assets such as gold.
Meanwhile, gold prices remained constant in Delhi, Chennai, Kolkata, and Mumbai on Sunday morning. The rate in Delhi for 10 gm of 22-carat gold was Rs 48,010, while the rate for 24-carat gold was Rs 52,370/10 gm.
Also Read | Rain causes waterlogging in several areas of Delhi, air quality improved
In Chennai, 10gm of 22-carat gold cost Rs 48,400, while 24-carat gold cost Rs 52,800.
The price of the precious metal in Kolkata is Rs 47,850 for 10 gm of 22-carat gold and Rs 52,200 for 10 gm of 24-carat gold. The gold rate in Mumbai has been Rs 47,850 for 10 gm of 22-carat gold and Rs 52,200 per 10 gm of 24-carat gold.
Last week, the yellow metal experienced resistance around the critical $1,740 (Rs 1,44,128) per ounce mark in global markets, while the Rs 52,100 per 10 gm mark acted as a tough block for prices in the domestic market.
Also Read | BJP's strategy: PM Modi likely to hold 40 rallies across 144 Lok Sabha seats lost in 2019 polls
-PTC News