New Delhi, March 22: Chaitra Navratri is a nine-day festival that usually falls in the months of March or April, depending on the Hindu lunar calendar. It is celebrated with great fervour and devotion across India. The festival is also known as 'Vasant Navaratri' as it is observed during the spring season. This year, the festival will be observed from March 22 to March 30.
In Hinduism, fasting is believed to be a way to pay your gratitude to the Goddess who is the epitome of power, determination, wisdom, strength and purity.
Also Read: 'Operation Amritpal': Mohali police lodges FIR against 33 for protesting at Sohana chowk
Ingredients like kuttu atta, singhara atta, fresh vegetables, fruit, milk products and dry fruits are mostly consumed on these auspicious days.
People observe fast according to their family traditions. While some alter grains from their diet, some observe the nine days fast by following a liquid diet only.
Delicacies such as Sabudana khichdi, fruit chaat, kheer and kuttu ki poori are some of the most popular dishes cooked during the Navratri festivities.
Here are some quick-to-make and yummy-to-eat snacks to try this Navratri
Milk & juice
Milk & juice is one the healthiest snacks to intake this Navratri as it will keep you hydrated and it is extremely important to drink plenty of fluids. You can even consume lemon water, coconut water, buttermilk, watermelon juice, and more.
Kuttu ki puri
Kuttu ki puri (buckwheat flour), is a type of flour commonly used in fasting recipes during festivals. It is rich in fiber, which can help improve digestion and regulate blood sugar levels. It is a healthy source of essential nutrients such as protein, iron, and magnesium. You can enjoy crispy and flavoured Kuttu ki puri served with aloo ki sabzi and curd.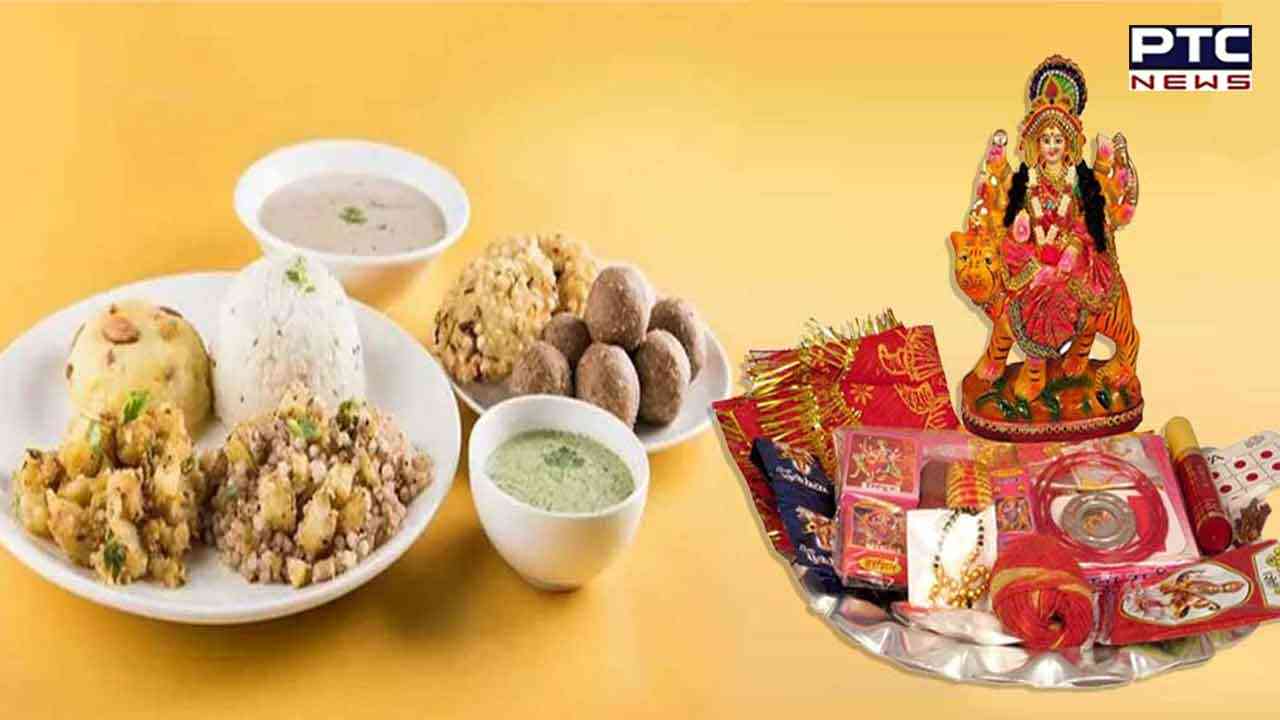 Fruit Chaat
Fruit Chaat is one the simplest and most delicious option to fill in your stomach while fasting. The snack is made by mixing a variety of fresh fruits such as apples, bananas, papayas, pomegranates, and grapes.
Makhanas
Makhanas are the most scrumptious snack to relish during the festivity. Makhanas typically roasted in ghee or fries with the pinch of salt added to it will make it the most delicious to add in Navratri's meal. There are a variety of ways to use these snacks, such as in kheer (pudding), curry, or as a topping on salads.
Sabudana Halwa
Sabudana Halwa is a traditional Indian snack made from tapioca pearls, sugar, ghee, cardamom, and other ingredients. It is high in carbohydrates, which provide energy for the body. This makes it an excellent snack for people who need a quick boost of energy during a fasting period. It is a very easy and simple recipe method that you can try at any time at home during a fast.
Also Read: Modi surname remark row: Rahul Gandhi sentenced to 2-year in jail , gets bail
Sama Idli
This savoury rice cake dish is made by steaming a batter consisting of sama rice (swang ke chawal) and spices used during fast. Serve the idlis with coriander chutney and have it as your 'fast food' for dinner or breakfast.
So as we have got you all covered, move over the usual kuttu ki puri and aloo ki sabzi, and rustle up something new this Navratri.
A very happy Chaitra Navratri 2023!
- With inputs from agencies