Union Finance Minister Nirmala Sitharaman on Friday, during her speech on Budget 2021 in Rajya Sabha, said that budget was an instrument for Aatmanirbhar Bharat.

Speaking in Rajya Sabha on Budget 2021, Nirmala Sitharaman said that "It's a Budget which clearly draws on the experience, the administrative capacities and also exposure that the PM had during his long elected tenure - both as CM and as PM of this country - known for his commitment towards development, growth and reforms."
Also Read | During debate on budget 2021, Rahul Gandhi rakes up farm laws in Lok Sabha
"It is worth mentioning that 800 million people were provided free foodgrains, free cooking gas provided for 80 million people and cash directly was given to 400 million people, farmers, women, divyang and also the poor and needy," Sitharaman said.

She further said that "it has now become a sort of habit for some in the Opposition to constantly allege, in spite of what we are doing for the poor and the steps taken for helping the poor and needy of this country, a false narrative is created to accuse - saying that this Government works only for cronies."
Also Read | Farmers Protest: Nodeep Kaur gets bail in one case, details inside
She also said that it was an aim to maintain sustainable growth. "Stimulus for a revival of the economy, the budget is aimed at Aatmanirbhar Bharat goal while systematic recovery is on the target," she said.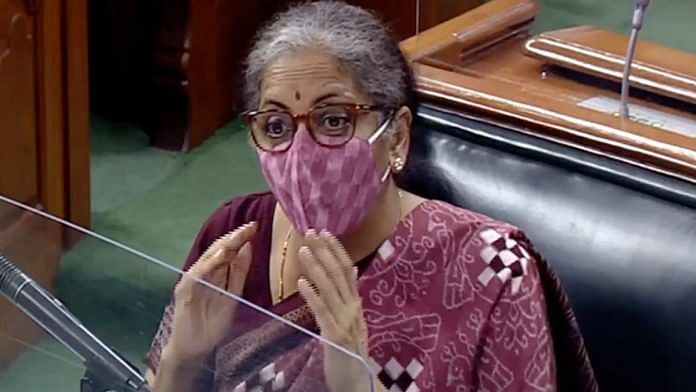 "Number of digital transactions via UPI from Aug 2016 till Jan 2020 - over 3.6 lakh cr. UPI is used by who? The rich? No. Middle class, smaller traders. Who are these people then? Is Govt creating UPI, facilitating digital transactions to benefit rich cronies? Some damads? No," she stated.
"'Damad', I didn't think is the trademark of Indian National Congress. Damad har ghar mein hota hai. Magar Damad Indian National Congress mein ek specialised naam hai," said Nirmala Sitharaman after the Opposition raises an objection over her remark.
-PTC News