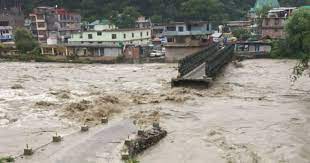 Dharamshala, September 02: A cloudburst on Friday evening took residents Khaniyara, 7 kilometers from the town of Dharamshala in Himachal Pradesh, by a shock when they all of sudden witnessed horror of floodwaters devastating their area in fraction of seconds.

Also Read: Germany's Lufthansa airlines to cancel 800 flights due to pilot union strike
However, no casualties have been reported so far. The area witnessed massive power cut after the power transformer collapsed due to floods and rations were also flooded with rubble.
Residents here said they heard a loud noise, then water with debris suddenly rose in the local area and damaged several shops in the area.
Providing details, Deputy Commissioner Kangra Nipun Jindal said residents reported a sudden rise in water levels and debris in Nalluh . "There were no casualties in the incident, but damage has been reported in several shops in the Indrunag temple area. Teams were sent out to assess the damage," he said.
Also Read: Ruckus at Delhi airport due to cancellation of Lufthansa Airlines           
-PTC News