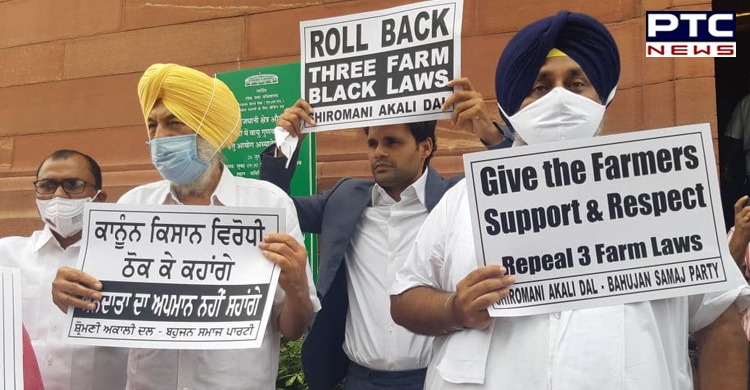 Farmers' Protest: It's Day 7 of Parliament's Monsoon Session 2021. Shiromani Akali Dal President Sukhbir Singh Badal along with other SAD and BSP MPs have been protesting against farm laws outside the Parliament.

"We are standing here since Day 1 of the Monsoon Session 2021," Sukhbir Singh Badal said, adding that it doesn't bother the government. The largest democracy has now become the largest dictatorship, he said.
Also Read | Monsoon Session, Day 6: 7 Oppn parties want Prez intervention in Pegasus, farm laws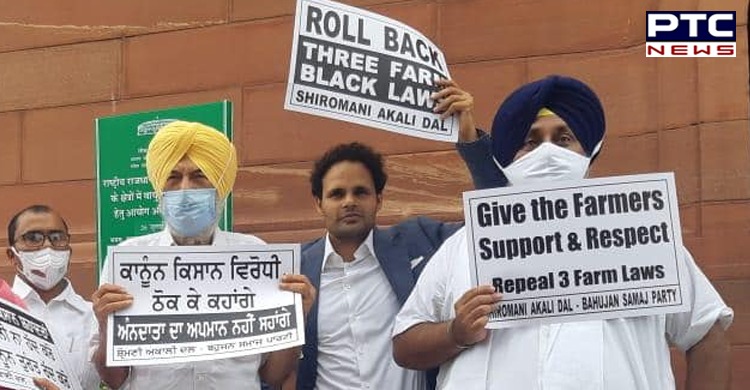 Adding, he said that people's voice has to be heard. "Be it inside or outside the Parliament, the government has been crushing the voice which is not acceptable, he added.
Also Read | New Covid-19 variant surfaces in UK, 16 cases reported so far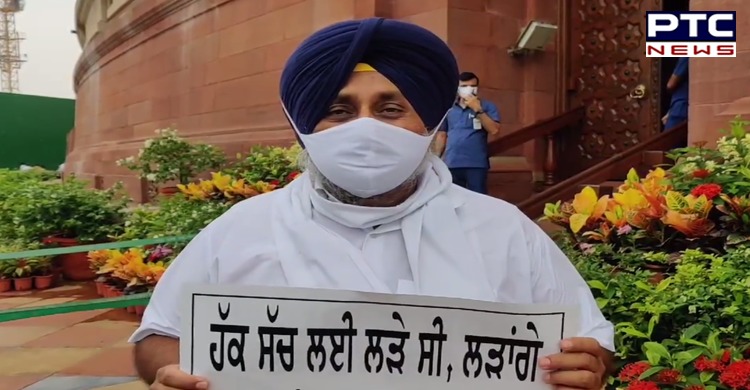 Even as the SAD president and other SAD, BSP MPs showed placards to the Union Minister Nitin Gadkari.

He further said that only Ambani and Adani were getting rich. Only their voices were being heard, he said, adding that this is a clear dictatorship.
"We are committed to ensuring justice for farmers of Punjab and the country. We also appeal to other political parties to unite to ensure the cause of the annadaata is not weakened in any way," he had said.
Farmers have been demanding the repeal of the Farmers' Produce Trade and Commerce (Promotion and Facilitation) Act, 2020; the Farmers Empowerment and Protection) Agreement on Price Assurance and farm Services Act 2020 and the Essential Commodities (Amendment) Act, 2020.
-PTC News