Chandigarh, March 7: The Shiromani Akali Dal (SAD) on Tuesday urged Punjab Governor Banwarilal Purohit to dismiss the Bhagwant Mann-led AAP government for its gross failure to maintain law and order.
The SAD accused the AAP government of indulging in corruption running into hundreds of crores while framing the liquor and sand mining policy and suppressing the freedom of the press.

SAD president Sukhbir Singh Badal also led a party delegation to submit a memorandum to the Governor, demanding a probe into threats received by Ajit MD Barjinder Singh Hamdard and highlighted how the government was trying to "suppress the freedom of the Press by denying advertisements to the newspaper, besides even barring its reporters from covering the proceedings of the Vidhan Sabha.
Also Read | No govt official can leave headquarters without permission: Punjab Cabinet minister Meet Hayer
Sukhbir Singh Badal said the Ajit newspaper was known as 'Voice of Punjab' and the assertions made by Barjinder Singh Hamdard should be probed thoroughly. He also highlighted how the AAP government had struck against the media immediately after being voted to power.
The SAD delegation also apprised the Governor about the Punjab CM's conduct in the Vidhan Sabha and said Bhagwant Mann was not fit to sit in his chair. It also expressed shock at the CM's statement that he had a complete dossier on "corrupt activities" of the previous Congress ministers.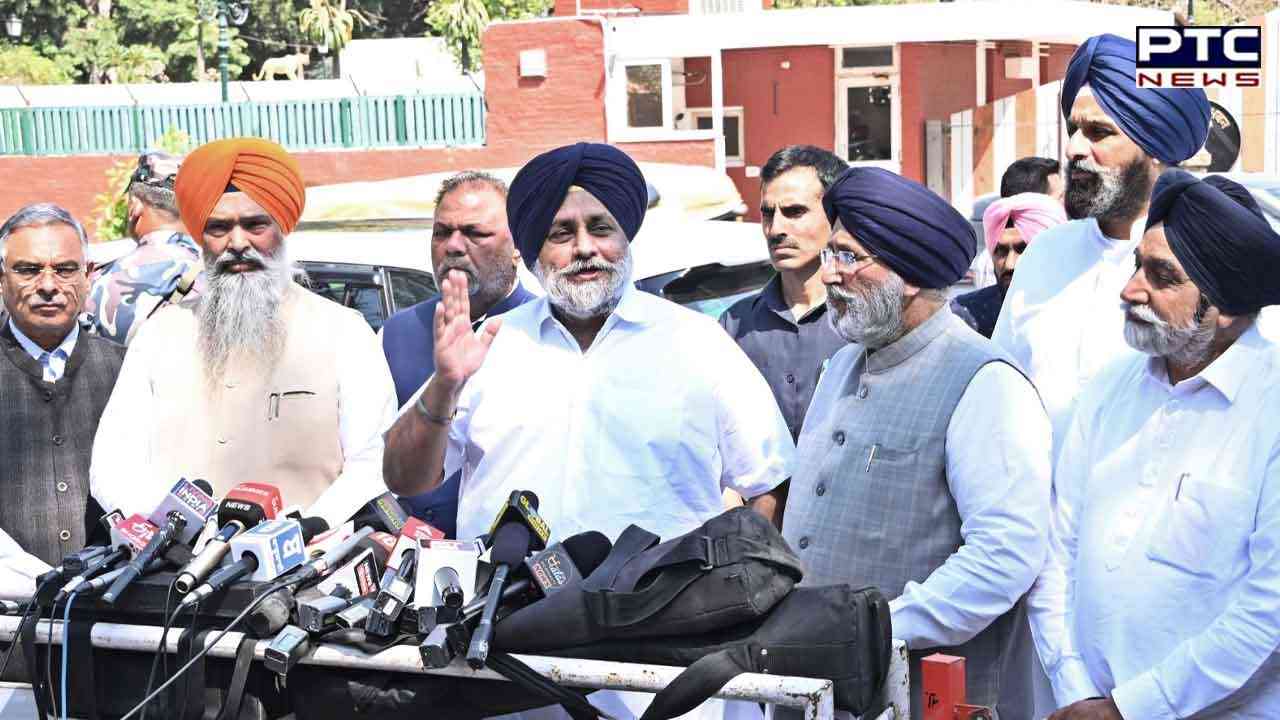 Sukhbir Singh Badal said it was a fact that the previous Congress government was most corrupt, but it was even more mystifying as to why the CM was not taking any action against former Congress ministers despite having proof of their corrupt activities in his possession.
He said it seemed the government was using the dossier to silence Congress leaders into submission. "This was even witnessed in the Assembly when the Punjab Congress president refused to join the sloganeering against the CM or even raise his hand in solidarity with his party leaders protesting against the AAP government", said Sukhbir Singh Badal.
Also Read | After assurance of meeting with CM, Sidhu Moosewala's parents lift dharna outside Punjab Assembly
He also demanded that a CBI inquiry should be initiated into the murder of Sidhu Moosewala. He blamed Bhagwant Mann for the death of Moosewala. "Had the CM not posted statements on social media bragging that Moosewala's security cover had been withdrawn, the singer would have been alive today". He said a CBI inquiry was necessary to arrive at the truth in the case.

- PTC NEWS