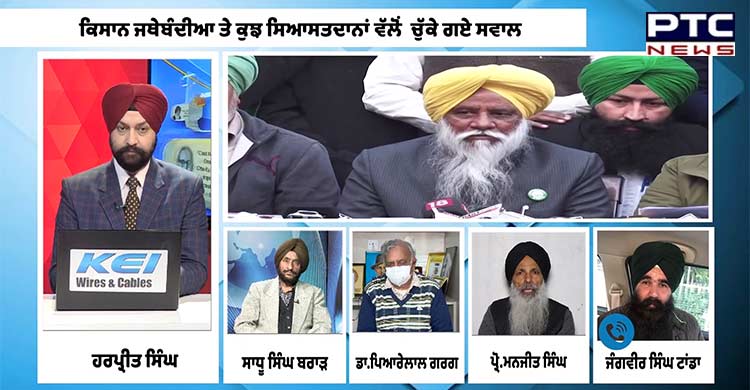 PTC Vichar Taqrar: Riding high after forcing the Centre to withdraw the three farm laws, farmers' outfit Sanyukt Samaj Morcha has now taken a plunge into politics ahead of the Punjab Assembly elections 2022 — a move being flayed by several political parties, including AAP, and even a section of farmer leaders.

PTC's popular debate Vichar Taqrar's January 12 episode, hosted by Editor Harpreet Singh, also deliberated upon the issue in detail. The speakers were Sadhu Singh Brar, a senior journalist; Dr Pyare Lal Garg, former Registrar, Baba Farid University; Prof Manjit Singh, a political expert; and were Jangveer Singh Tanda, a member of the Sanyukt Samaj Morcha.
Also read | Punjab Elections 2022: Sanyukt Samaj Morcha's first list of 10 candidates out; list inside
While farmers' outfit Sanyukt Samaj Morcha has announced to contest all 117 seats in the Punjab Assembly elections scheduled for February 14, 2022 and claimed that they will usher in a new era of politics, the decision has baffled several political outfits. Questions are being raised if farmers can handle political affairs. Several political leaders are maintaining that they (farmers) should desist from taking the political plunge.
However, farmers believe interest-specific political parties don't have a good track record in Punjab and people need change. The Sanyukt Samaj Morcha has claimed that they would bring about a new change in politics. It has also put to rest all speculations regarding its alliance with the Aam Aadmi Party.
Sadhu Singh Brar, a senior journalist, however, said farmers would loose their "identity" after entering politics. He said they should refrain from doing so.
On the other hand, Jangveer Singh Tanda of the Sanyukt Samaj Morcha said if given chance, they would solve the issues of the masses at the grassroots level.
Prof Manjit Singh alleged that AAP convenor Arvind Kejriwal wanted to use farmers in Punjab for its own benefit. "Farmers got to know about nefarious designs of the AAP at the earlier stage," he claimed.
Notably, the alliance between the Sanyukt Samaj Morcha and the AAP could not become a reality on the issue of seat sharing. Political pundits also believe that somewhere, the AAP is also fearing that the Sanyukt Samaj Morcha would dent its rural vote share. The morcha's decision to contest the Punjab Assembly elections is set to divide the floating vote share. In the 2017 Punjab Assembly elections, the AAP had bagged a total of 23.9 per cent votes.
Also read | PTC Vichar Taqrar: AAP leaders revolt against party over ticket allotment to turncoats; watch full episode
The AAP was being seen as a strong contender till the farmer unions decided to contest the Punjab elections. Farmer leaders believe that  Punjab voters had always been against the established political parties and need a third front. These voters seek a change in Punjab now.
For Punjabi article, click below.
ਰਿਵਾਇਤੀ ਪਾਰਟੀਆਂ ਤੋਂ ਕਿਵੇਂ ਵੱਖਰਾ ਹੋਵੇਗਾ ਸੰਯੁਕਤ ਸਮਾਜ ਮੋਰਚੇ ਦਾ ਕੰਮ ? ਵੇਖੋ ਖਾਸ ਰਿਪੋਰਟ
For detailed information, please watch the full episode of our popular debate show Vichar Taqrar.
For more episodes of Vichar Taqrar, click here.
-PTC News
.